El Salvador's coffee sector is suffering from a violent climate
El Salvador is one of the most beautiful coffee origins in the world, enjoying a tremendous biodiversity, wild Pacific coast, stunning highlands and a rich Mayan culture - covering an area of only half as big as Switzerland. I remember it as a country of hearted and dedicated people, who always welcomed me with great hospitality.
For coffee lovers, El Salvador is known for its excellent qualities, especially the Pacamara varietal with its fine acidity and chocolate flavoured profile. More than 70% of the 2014/15 exports are added value coffees, including Fairtrade, other sustainable / certified (RA, UTZ, organic) and gourmet and fine coffees, representing a share of 75% of the entire coffee export value (Consejo Salvadoreño del Café, 2015).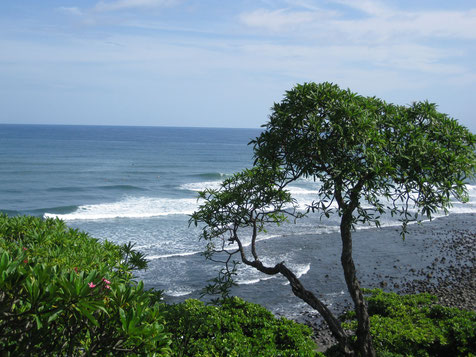 The outbreak of roya left deep marks in El Salvador's economic landscape
However, the outbreak of the coffee leaf rust (span. roya) in early 2013 has left deep marks in the little country's economic landscape. Roya is an aggressive fungus, and its extension is favoured by changing weather conditions, particularly warmer temperatures. 
Naively assuming that within a three years period, the coffee sector could recover from the crisis, articles, news and personal notes early this year have raised my attention and my concerns.[1] The impact of the roya on El Salvador's economy and rural population are still severe - if not to say - brutal. Just to name some recent numbers:
Coffee production has dropped from 1.2 million bags in 2012 to only 762,000 bags in 2015 (ICO, 2016)

Yields show a decrease of 60%: from 6.7 bags/ha in 2012/13 to only 2.7 bags/ha in 2013/14 (Ministry of Agriculture/MAG, 2016)

60% of the coffee production area (ca. 67,000 ha in 2016) is still affected by the roya.

There are 150,000 people directly and approx. 500,000 people indirectly employed in the coffee sector (CSC, 2013). 50% of the rural population is living in poverty, suffering from food and nutrition insecurity (World Food Programme, 2016)

More than 88% of the national territory, containing 95.4% of the population (ca. 6 million) is vulnerable to natural disasters (2012 Global Climate Risk Index).
---
[1] Mainly Jimmy Sherfey's excellent article: El Salvador's coffee industry at a crossroads from 6 January 2016, in: http://dailycoffeenews.com/2016/01/06/el-salvadors-coffee-industry-at-a-crossroads/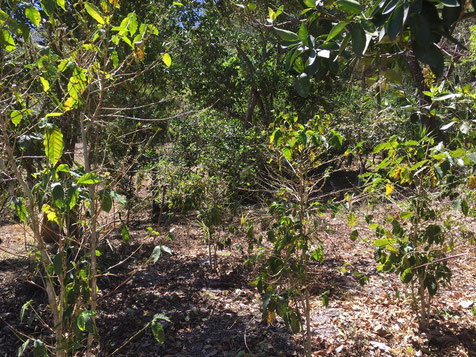 Climate change scenarios predict a dramatic decrease in coffee production
Rising temperatures resulting from a changing climate are creating favourable conditions for the roya and other diseases. As if this was not bad enough, climate change and its El Niño phenomenon are creating additional challenges for the agricultural sector: "Climatic scenarios published by specialized research institutes predict that in 2030 it will not be longer possible to grow coffee in altitudes lower than 800m above sea level. If this occurs, the rural families depending on coffee production in low and medium altitudes – where approximately 84% of the Salvadoran production area is located - will have to abandon this activity and look for new ways of living." says Ismael Merlos, Rural Development Director of Fundación Nacional para el Desarrollo, FUNDE (www.funde.org). "But it´s not only coffee, also nutritional crops such as corn and beans already show losses due to climate change. Agriculture as such will become an economic activity of high risk and uncertainty", Ismael adds.
The agricultural crisis pictures a downward spiral for El Salvador's rural population: "Farmers are left alone with their problems. Even members of cooperatives cannot count on the support of their organizations, which themselves are heavily weakened by the crisis." explains Guillermo Belloso, coffee expert and Regional Manager of the 4C Association (www.4c-coffeeassociation.org). He continues: "One of the main problems is access to credits, strongly needed to fight roya and to renovate the cultivation area: in their current situation, hardly any bank is giving credits to the cooperatives.  Consequently they lack the financial resources to support their small farmer members. The entire coffee sector - even some of its charismatic and popular leaders - have literally become sick of the situation. And then there is the omnipresent violence in the country. But this is a different story..." 
The coffee sector needs a strong organisation to fight climate change and violence
Memories of enthusiastic and highly motivated persons whom I knew during my stays in El Salvador are running through my mind, while listening and noting down the concerns of Ismael and Guillermo. Their words sound like calls for help. But it's not only external help what "The Home of the Saviour" needs. Only a strong internal structure with a coordinated approach by the government, private sector and local NGOs can enable the sector to take action.
In fact, there IS money to support coffee farmers. The Ministry of Agriculture can leverage funds for fungicides, pesticides, resistant plants, technical assistance and training. The problem is the distribution of the money on the one hand and the implementation of the support services on the other hand. The institutional landscape of El Salvador's coffee sector is fragmented, responsibilities not clear, or better: competitive. This is also the reason why El Salvador was the only roya-affected country that did not declare the state of national emergency after the outbreak of the disease.
So, what does this mean for the people working in the coffee sector? While wealthier private exporters might find their own remedies and financial resources to combat climate change and violence, some of the smaller companies have already become bankrupt. Small farmers are struggling for pure survival, depending on external support by their buyers, governments and international programs. But then, the lack of a central responsibility causes reluctance among international organizations and companies in investing in re-establishing the country's coffee sector.
"A national coalition or platform with the leadership of a central institution could be the adequate approach to agree on measures and to channel the money in an effective and efficient way. Furthermore, collaboration in the country can give us the chance to restore our confidence and to demonstrate that the violence can be eliminated with the support of the coffee community. This exercise could set an example to be multiplied by the entire Salvadoran society." says Guillermo.
Well, I think to myself, this sounds neither new nor that difficult in theory, but in practice, it seems to be quite challenging. I say goodbye to Guillermo and walk out into the German winter cold. Around the corner, I stop by at a specialty coffee shop and order a coffee from El Salvador's Lamatepec-Apaneca Highlands with "sweet, malty notes and a lemonish sweetness". The fine aroma brings a smile on the faces of the coffee lovers sitting around me. Are they are aware of the long and serious story behind their cups?