Interview with Joachim Kühne, Trainer und Sensory Assessor of Berlin School of Coffee (BSOC) about El Salvador and the German specialty coffee sector
Since 2012, Berlin School of Coffee has been contributing to know how transfer and quality awareness with its exchange programme with El Salvador.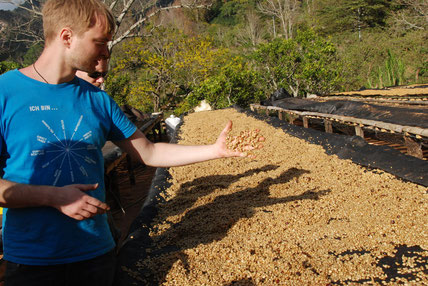 CC: Joachim, what role does El Salvador play for the German specialty coffee sector?
JK: Thanks to the high reputation of its coffees, El Salvador is one of the three most important origins for us, together with Ethiopia and Kenya. This is due to the scientific work of local research institutes, continuously developing varieties and production and processing methods, on the one hand. On the other hand, quality matters a lot: El Salvador has perfect natural conditions and shows high potential for quality improvement. For example, by applying innovative processing methods, you can produce a fantastic honey dried (pulp is removed only partially before drying) already from altitudes lower than 1200 m. Such coffees are extraordinary and they play an important frontrunner role for the German specialty market. 
Besides that, I have a very personal relationship with El Salvador and its people. During my many travels in the context of the BSOC Coffee Master Programme (http://www.coffee-master.de/), I could meet a lot of people and establish real friendships.  
CC: This sounds familiar. Can you tell more about the Coffee Master?
JK: The Coffee Master is the high-end level of our educational offer. Students with particular interest participate at the educational travels to El Salvador to get insights into coffee production, varieties, research (e.g. about diseases like roya / coffee rust) and to learn more about the people's daily lifes. Already in 2012 we have started cooperating with the Consejo Salvadoreño de Café and its coffee school, the Escuela del Café. Also PROCAFE, the national research institute and its master mind Angel Cabrera, father of the famous Pacamara variety, are contributing significantly to the Coffee Master. 
Besides theoretic classes, we dig deeper into the practical side of coffee cultivation in various field visits to local fincas and plantations. These trips are good for establishing important contacts and business relations. At the same time, farmers have the opportunity to learn more about their German customers' requirements and to adopt their offers respectively. 
CC: How do the Salvadoreños benefit from the Coffee Master Programme?
JK: First, there is the direct exchange between farmer and (future) roaster. Facing the fact that only a few coffee producers worldwide are drinking good coffee, this is already a great benefit. In addition, we regularly invite Salvadoran delegations to Germany to join important coffee events like COTECA (http://coteca-hamburg.com/). These are perfect occasions to develop business relations, made possible through direct and personal contacts. 
In El Salvador, some initiatives resulted from the cooperation between BSOC and the Escuela del Café: with the objective to raise consumer awareness for quality aspects and to promote domestic coffee consumption, the Escuela, supported by local NGOs, is building small coffee bars all over the country. 
CC: And what is your work with respect to raising consumer awareness for coffee quality in Germany?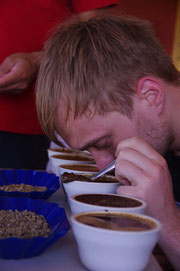 JK: In general, our quality standards are very high and enjoy absolute priority compared to quantitative aspects like productivity, as promoted by parts of the mainstream sector. Hence, it is important to create certain quality sensitivity among coffee drinkers. Unfortunately, the German consumer still pays a lot of attention to prices.
This is why we incorporate topics like cultivation, varieties, quality improvement mehtods and social and environmental issues in our roasting classes. Furthermore, we offer @home classes designed for coffee lovers - the "normal" consumer. Like this, we hope to generate a higher level of quality requirements and to strengthen appreciation for this exclusive product.  
CC: This seems to be a sensible approach. The coffee market's supply-demand ratio is changing, and coffee won't be available anymore as cheap mass product.  
JK: Agree. Given the changing climatic conditions, countries like El Salvador will not be able to produce the same volumes as they did 10 years ago. At the same time, coffee demand is constantly growing, which leads to price increases in the long term. This is reality, and we have to take this development as an opportunity to recognise coffee as a luxury product and to promote respective qualities, whereas know how and research are playing the decisive roles.
In this regard, Salvadorans are already doing a great job: thanks to short communication chanels in this little country, many farmers can be reached and teached. As mentioned earlier, they managed to produce top-quality coffees from lower altitudes just by applying innovative processing methods.  This has been also rewarded by the Cup of Excellence (http://www.allianceforcoffeeexcellence.org/en/cup-of-excellence/).
CC: But still, climate change is a huge challenge for farmers. How do you tackle this issue?
Through quality improvement and know how transfer we hope to create sustainable alternatives and adaptabilities for coffee farmers. Our focus lies on exclusivity instead of quantity, equally applying to marketing aspects of coffee. If producers are able to add real value to their product, they will earn enough money and make themselves more independent from climate-related harvest losses and volatile prices. 
With regard to coffee varieties, we should go back to the roots and the original gene pool of the Arabica plant. For decades, coffee plants have been subject to more and more breeding and selection to promote productivity. This is one of the reasons why the coffee trees are so vulnerable to specific diseases and have lost their natural resistence. They are not resilient to climate change, which has become very obvious by the devastations caused by the roya in Central and South America. (see also my article on coffee rust / roya in El Salvador from 15 Feb 2016.)
CC: So, awareness on origins and concentration on high-quality coffees represent sustainable alternatives for coffee growers. How do your future plans for El Salvador look like? 
JK: We want to further develop the partnership between the German specialty sector and the Salvadoran coffee market. One option is the promotion of direct trade concepts, as already practiced by the German Roasters' Guild (http://www.deutsche-roestergilde.de/de/). Hence, we are happy to welcome even more roasters to our educational travels to build and strengthen their business relations on site. In a next step, we want to involve consumers and to raise their awareness for quality and production. Still, the exchange should remain a programme and should not be politicised. 
My personal wish for the Coffee Master is to contribute to finally overcoming price sensitivity and to raising real appreciation for the wonderful product coffee. 
An I wish you a lot of success for this endeavour! Thank you for the interesting interview!