Improving working conditions in the coffee sector
The ergonomic bag for harvesting coffee proves that simple changes in equipment can have a significant impact on working conditions of millions of coffee pickers worldwide. Thanks to the support of the German Roasters' Guild (Deutsche Röstergilde e.V.) cosecha arranged the production of scientifically testet bags in Nicaragua ready to be applied during the coffee harvest 2017/18.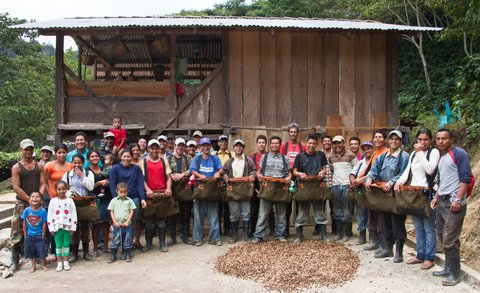 Coffee pickers are the largest and most vulnerable group of participants in the value chain.
Specialty coffee has invested and innovated continuously to make the coffee trade more inclusive and more equitable. Roasters mainly focused on close relationships to producers and direct trade concepts (see also my article on Direct Trade from March 2016).
However, the largest and most vulnerable group of participants in coffee value chains, millions of wage-earning men and women who work on coffee farms and their families, have remained on the margins of those efforts. Most of them are temporary and migrant workers who stay on coffee farms for a couple of months during harvesting season to pick the coffee cherries. While their permanent counterparts may be officially employed in the formal sector, the casual, short term or seasonal nature of the coffee pickers' employment means that they often lack social protection, health benefits, legal status, rights and freedom of association and equal payment.
Our favourite drink is their only source of income and livelihood. Thus, the specialty coffee sector should urgently pay more attention to workers and include them in its sustainability activities!

Conventional harvesting baskets typically consist of a large, wide bamboo or plastic basket held in front of the body by a rag tied behind the waist. Harvesters in Central and South America often work on steep and uneven terrain and need to use extended reaches. A basket full of coffee cherries weighs at least 12kg and is minimally 20" in diameter. This combination of the weight and the large diameter of the basket results in excessive biomechanical loads on the spine and shoulders of the coffee harvesters increasing the likelihood of a life changing injury.
In 2008, Prof. (emeritus) Kate Stewart, ergonomist and researcher of University of Washington in Seattle/USA, visited Nicaraguan coffee farms, where she talked to coffee farmers and workers. All of them complained about their back hurting after a day of work. Baskets used for harvesting can cause debilitating harm to the backs and shoulders of the harvesters with long term consequences limiting their work ability. As a result, families suffer loss of necessary income to pay for adequate housing, healthcare, food and education.

To improve the health conditions of farm workers, Kate decided to develop and produce a new style of harvesting bag based on a design she had seen on a US apple farm.
The ergonomic bag has proven to significantly reduce risk of injury and to create a safe and productive work environment.
It reduces physical load on spine and shoulder through using shoulder straps, attaching the bag to a support belt. With the same load capacity as conventional baskeds, the diameter of the bag is reduced so it is deeper, while the bag shape fits the contour of the body. Like this, it facilitates a stable stand on steep terrain and reduces risk of accidents.

Water-resistant material on the inside keep the harvester's clothes and body dry. Water-permeable fabric on the outside avoid moisture build-up and consequent loss of quality of the coffee cherries.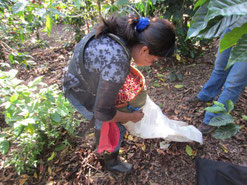 To empty a traditional harvesting basket, the picker has to release the rag/belt, turn the bag and fill the cherries in a bigger container.
The ergonomic coffee bag uses a simple, safe and efficient mechanism for emptying its content: while standing, the harvester just opens the lower part of the bag and fills the cherries directly into the container. As another positive side effect, losses of of coffee cherries are reduced.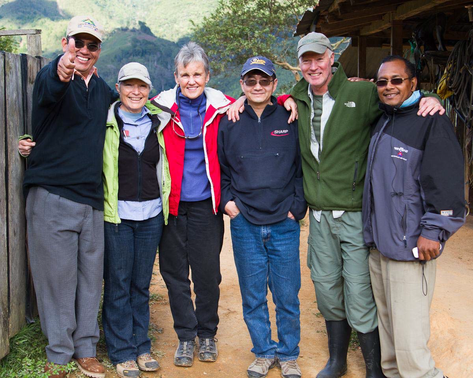 In several test phases from 2010 to 2012 in Nicaragua, Kate and her research team of  Universidad Nacional Autónoma de León (UNAN, Nicaragua) and the University of Washington developed a bag that fits the conditions in steep terrain and adapts to producers' and workers' needs (for details of the development phase refer to Emma Christie's blog post Bad backs and bag believers, Steve Russell documented photographically).
Feedback of producers and workers was very positive, they all liked working with the new equipment. Unfortunately progress came to halt, as external conditions - outbreak of the Roya in Nicaragua 2012/13 with devasting impact on production (see also my article on Roya of Feb 2016) - forced producers to reduce their budgets and left little scope for investment in the new bags.

The German Roasters' Guild facilitates production and use of the coffee bag.
While working with 4C Association, I partnered Kate's project and joined the tests in the Jalapa highlands, close to the boarder with Honduras in 2010/11.  I became a believer of the ergonomic coffee bags and their benefits for the workers' health, experiencing that simple changes can have a hugh impact.
This is why I approached Deutsche Röstergilde and presented a project outline to promote the production and proliferation of the coffee bags. The German roasters were enthusiastic about this idea and supported the production of 20 bags, ready to be tested by their partners. More bags should be produced, distributed and used during harvest 2017/18.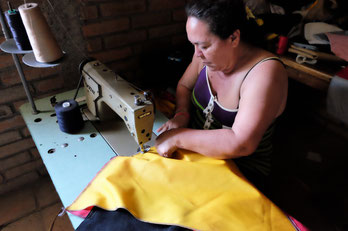 Fabrication of the coffee bags offers additional opportunities to create infrastructure and employment in coffee growing regions. Seamstress Emma Reyes from La Paz Centro had already cooperated closely with Kate during the test period, applying all the ergonomic features to the bag. 
For the coffee bags, she uses local, high-quality fabrics, which she buys at the market in the capital Managua. Emma gets support by her family and even proposed to raise a social business together with her former colleagues from the maquila (tax-free manufacturing areas in Northern Mexico and Central America).
Further support by green coffee traders and producers is urgently needed.
Emma manages to produce an ergonomic bag for 20 USD only. This is just a small investment, considering its estimated lifetime of 4 years.
Meámbar Premium Coffee, the direct trade project by Carola Larios-Postel and her brother Christian in Honduras is the first partner of the Roasters' Guild to test the ergonomic coffee harvesting bag. Further support by green coffee traders and producers is urgently needed to make the bag accessible to as many coffee pickers as possible. At the end of the day, it is a win-win-situation for all value chain participants: the worker is given a healthy and safe work environment; the producer can count on motivated and productive work force; traders, roasters and consumers benefit from a rich harvest and good coffee quality.